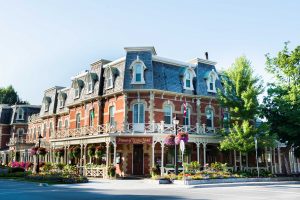 The Prince of Wales Hotel is where the event will be held. It has long been a beloved and historical landmark to both residents of Niagara on-the-Lake and travelers from around the world.
It was first opened its doors in the 1860's, just prior to confederation of Canada in 1867. The corner stone carved with the date 1864 can still be seen today. It was also named The Arcade Hotel, The Niagara House, and finally in 1901, The Prince of Wales Hotel. This name was chosen in honour of the 1901 visit of the Duke and Duchess of York, who were later crowned King George V and Queen Mary.
The Prince of Wales is one of the world's finest hotels, earning a spot on the Travel & Leisure Top 500 Hotels list. Also earning recognition on the Condé Nast Gold List for 2006 and 2007, and a CAA/AAA four diamond rating.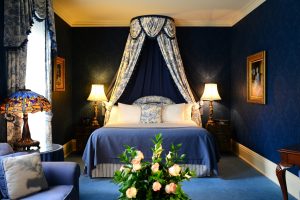 Lavishly decorated guestrooms offer a unique combination of elegant antiques, crisp linens, gas fireplaces, and exquisite traditional brocades and tapestries.
The facilities are meant to showcase business meetings and executive retreats. The Escabèche dining room features the bold flavours of the region's finest produce. The Churchill Lounge serves classic pub fare in a cozy library setting or outdoor patio while the Drawing Room honours the tradition of English High Tea. The Secret Garden Spa offers a wide selection of services to soothe body and soul in an opulent oasis inspired by the classic English garden.
NOTE: To receive the special rate for the TangleOn CZT Retreat, at the Prince of Wales Hotel, please follow the instructions you will receive when completing the registration form.
Website: http://www.vintage-hotels.com/princeofwales/
Phone: 905-468-3246 Toll-free: 1-888-669-5566
Email: Prince of Wales
Mail: 6 Picton Street, PO Box 46, Niagara-on-the-Lake, ON Canada, L0S 1J0
For more information
CZT Instructors and Workshops
Information and Registration
Canada's Heart of Wine Country
Travel Information
Activities for Spouses