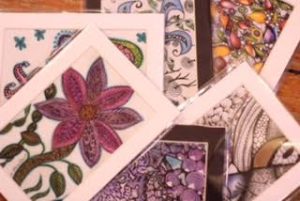 The Zentangle method is something that you (and anyone age 5 and up) can do to relax, create focus and have fun, no matter what your age or ability. If you can draw a few elemental strokes such as a curve, an S shape, an orb and a small line, you can tangle.
Zentangle is a comforting art form, concentrating on mindfulness. It's all about being non-judgemental, learning how to be kind and gentle with oneself. It's meditation with a pen …. thinking about one line at a time with no worries about the end product….just the here and now. There are no mistakes, only creative opportunities. Our motto "Anything is possible….one stroke at a time" tells our story. It's relaxation and comfort all rolled into one. Millions of people are now practicing the Zentangle method around the globe and enjoying emotional, spiritual and physical benefits while creating little pieces of art.
I'm Brenda Shaver, a Certified Zentangle Teacher (CZT), trained by the founders, Rick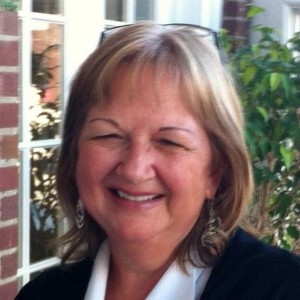 Roberts and Maria Thomas.  I would love for you to come along on my journey. Sign up for some classes and workshops to learn how to tangle, create Zentangle inspired art and to become part of an amazing Zentangle community.
There are many words to describe Zentangle but I think the following ones relay the whole concept and process the best.  They are illustrated on a beautiful art postcard created by Maria and Rick, called the "Birth of Zentangle",
"Creativity, Art, Focus, Simple, Complicated, Magic, Mysterious, Ritual, Powerful, Beautiful, Alive, Encourages, Practice, Calms, Perspective, Life skill, Metaphor, Mindfulness, Relaxing, Inspiring, Intriguing, Fun. AND it just feels good"…Maria Thomas and Rick Roberts.
In the Zentangle world, the excitement never ends.  It just keeps on giving. After holding hundreds of classes and workshops over the past five years, I have finally found a permanent home to teach, to have a gathering place for tanglers and a small retail shop.
Half Moon St. Tangle Art Studio & Boutique
136 Metcalfe St., Elora, On (Sept 2017)
For more information check out  www.zentangle.com  & www.facebook.com/tanglingwithbrenda
"Floral Scapes and Tangled Art"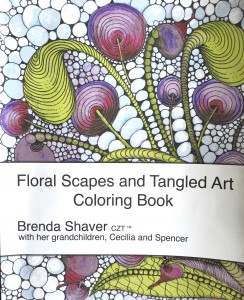 is a colouring book full of Zentangle Inspired Art created by myself and my grandchildren.  It can be found at our shop Half Moon St. Boutique 56 West Mill St., Elora, On, at our studio and boutique 136 Metcalfe St. Elora, On ( as of Sept 2107) and at viewbook.at/floralscapes.com
 Be Prepared to be Delighted and Inspired!