We always have exciting news at Half Moon and Tangle Art Studio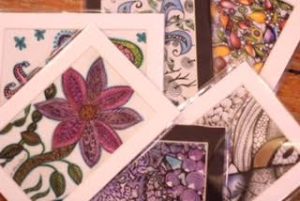 How about a workshop that teaches us how to be kind and gentle with ourselves while creating some lovely art with pen and ink? The Zentangle(R) Method is often called "Yoga for our Brain' or "Meditation with a Pen". It is fun and easy for anyone to do no matter what age or ability and the best gift we can giveto ourselves and others. Dates are posted for Jan., Feb., Mar., and Apr., under "Classes and Workshops". If you wish to attend, be sure to sign up asap by emailing tanglingwithbrenda@gmail.com or calling 226 979 8465  as space is limited. Workshops are held at our 136 Metcalfe St. location.
Our second annual

TangleOn CZT Retreat 2018

is published!
We had such a wonderful time last year, we are doing it again!  It's Oct. 14 to Oct 17 in Niagara-on-the-Lake. We have some great instructors all set to teach amazing workshops. If you are a Certified Zentangle Teacher and would like to attend, check out the information under "TangleOn Retreat".
Our first annual

TangleOn CZT Spring Fling Elora

is Apr. 6.7.8.

At this time, registration

 is full. If you would like to be on a waitlist, please contact us. 
*******************************************************************************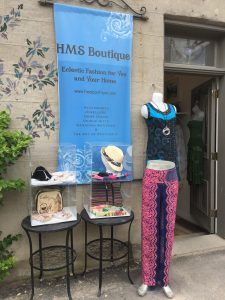 Half Moon addresses and winter hours –
1. Half Moon Boutique, 56 West Mill St.
2. Half Moon and Tangle Art Studio, 136 Metcalfe St. 
For the winter we are open Thursday to Sunday (weather permitting) from 12 to 5 pm at both locations.  We may be open on other days if the weather is nice;  also before and after hours. If you happen to be visiting Elora, be certain to call our cell at 226-979-8465 for any questions you may have.
Happy New Year and Hugs from Brenda and Nail