The Zentangle method is just so much fun and something that almost everyone can do, no matter what your age or ability. If you can draw a curve, an S shape, a dot, circle or a small line, you can do Zentangle. Everyone is wondering what this is, where it came from and what it does. Zentangle is definitely the talk of the town and of the world.  Millions of people are now practicing Zentangle and seeing so many benefits, emotionally, spiritually and physically.
I am Brenda Shaver, a Certified Zentangle Teacher (CZT), trained by Rick Roberts and Maria Thomas, the founders of Zentangle, to teach this amazing art form.  And I would love for you to come along with me on my journey, whether it be to take classes to learn how to do Zentangle, to create Zentangle inspired art or to join me on my new venture of participating in our coloring book called Floral Scapes and Tangled Art which I created along with my grand's, Cecilia and Spencer.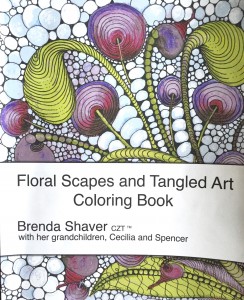 There are many ways to describe Zentangle but I think the following words describe the whole concept and process the best.  They are illustrated on a beautiful art postcard created by Maria and Rick, called the "Birth of Zentangle",
"Creativity, Art, Focus, Simple, Complicated, Magic, Mysterious, Ritual, Powerful, Beautiful, Alive, Encourages, Practice, Calms, Perspective, Life skill, Metaphor, Mindfulness, Relaxing, Inspiring, Intriguing, Fun. AND it just feels good"…Maria Thomas and Rick Roberts.
Zentangle is just so much fun and the excitement never ends.  Please check out the classes I offer, our new colouring book and I hope to hear from you soon. Have an amazing day!
Check out  www.zentangle.com   for more information
 Be Prepared to be Delighted and Inspired!