Registration is OPEN!
I am excited to announce that TangleOn Spring Fling 2019 will be held in Elora, Ontario. After such a great response this past spring, we are doing it again. However, instead of it being at my studio,  we have rented a beautiful space at the Wellington County Museum and Archives for the workshops and meals.  It will be great to have so much more space. And you are welcome to hang out at Half Moon Tangle Art Studio in between, before, and after, if you wish. My shop/studio is only a five minute drive away.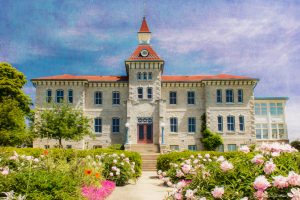 Date – Fri. May 3 to Sun. May 5 2019
Location –  Wellington County Museum and Archives, 0536 Wellington Rd, 18RR1, Fergus, On.
CZT  workshop instructors – Ting Su, Sylvia Ihnatowycz and Pam Signorelli  with some exciting workshops plus a Friday afternoon hands-on ART BAR with several CZTS.
Cost –  $339.00 cdn ($300 plus hst or approx $260 us).  This includes two continental breakfasts, two lunches, two dinners, refreshments and special non basic supplies.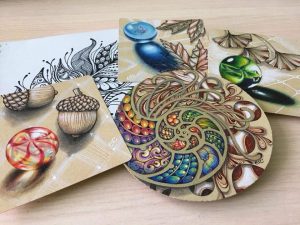 Accommodations are separate. There are several local, reasonably priced, bnbs, airbnb's, the Village Inn or the newly renovated Elora Mill Inn & Spa (higher end hotel). You may want to spend a couple of extra days to enjoy the quaint boutiques, galleries and sight seeing opportunities in our lovely village.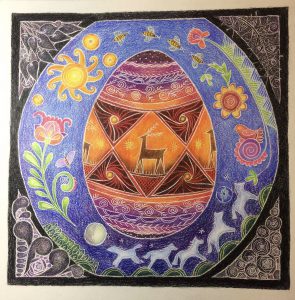 To register, please email us at- tangleonretreat@gmail.com.  Payment can be made with etransfer, cheque, visa, mastercard or paypal.
Space is limited, so don't miss this opportunity.  We would love to have you  join  us.
Please note:
These lovely pieces of art have been created  by and represent the work of Ting Su, Sylvia Ihnatowycz, Pam Signorelli.  They are samples of their art and may not be exactly the same as the projects we will be creating in class.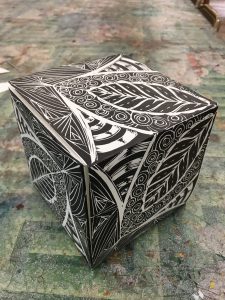 Looking forward to hearing from you,
Brenda xoxo
Travel Information –
Airports – Kitchener/Waterloo, On (1/2 hour); Toronto, On (one hour); Buffalo, NY (two hours).
Museum website -https://www.wellington.ca/en/museum-and-archives.aspx