---
 Laura Harms CZT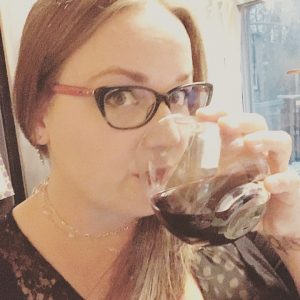 Laura Harms has always had a love of creating and studied Vocal Performance at the University of Saskatchewan where she performed in Music Theatre productions and also in the Saskatoon Opera Company's chorus.  After she became a mother she began to focus her attention on the visual arts, picking up her journal and combining sketching with documenting.  She became a Certified Zentangle Teacher in 2010 (CZT#3) and has been hosting The Weekly Zentangle Challenge each Monday morning since 2011 bringing together a Global Community of tanglers! Her love of art extends into watercolours, acrylics, art journaling and visual diary keeping.  When she's not creating she can be found Child-Wrangling and Puppy-training in her home in Saskatoon, SK.
Yvonne Westover CZT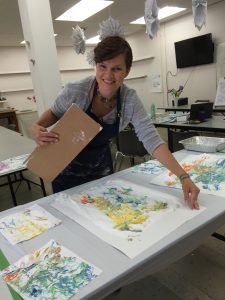 Yvonne's curiosity about the process of making art has led her to explore almost every medium and style of art and craft throughout the years. With a degree in Fine Art from the University of Guelph, along with being a Certified Zentangle Teacher (13), Yvonne believes that the process of creating allows for experimentation, learning and playing with individual expression. Yvonne loves to inspire others to explore the process and has done so through teaching at the Creative Festival in Toronto, the Bob Rumball Association for the Deaf, Elementary and High School programs, a scrapbook store, seniors centre and runs a children's art camp at her local gallery.  She is grateful to have had her work published in magazines and calendars and produced on accessories. When she's not home with her Husband and two children, you'll find her globe trotting as a Flight Attendant!!  You can follow her adventures, tangled and otherwise on Instagram and FB @ywestart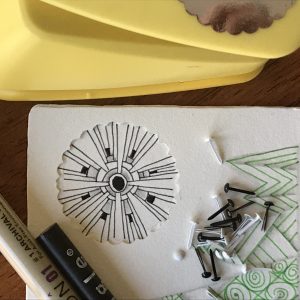 As the Tangle Turns 
Using basic Zentangle supplies paired with two basic scrapbooking supplies we will create a move-able tile. Our friend "Brad" will help keep it all together!    You will receive a handout that will include variations of the theme on this move-able tile that you can tailor to your teaching schedule, or gifting purposes!
Sheila Jarvie CZT
Sheila is a Certified Zentangle Teacher from Wellesley, Ontario. She moved to Wellesley eight years ago and embraced the quieter lifestyle of a small village community. Thanks to Brenda Shaver Shahin, she was introduced to Zentangle® and enthusiastically adopted the art form and practice. One of Sheila's greatest joys is sharing Zentangle® and supporting individuals in learning new art techniques. During her professional career, she was involved in teaching in a variety of health care and education settings. Stained glass, acrylics, calligraphy, and silk dying are some of the mixed media arts she has enjoyed over the years. Sheila describes herself as a lifelong learner always eager to learn new ideas and techniques. Now living in a rural Mennonite community, she is inspired by the simplicity and randomness found in nature and a simpler lifestyle. This has peaked her interest and creativity. Recently, she has been exploring art techniques that combine randomness with mindful drawing, something she is excited to share with you at TangleOn 2018.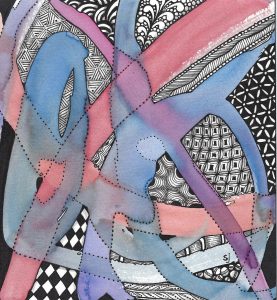 Finding Meaning in Randomness – Let Go and Trust the Process
Have you ever stared at your canvas and wondered what do I do next? Have you ever anguished about your composition or what technique to use? If so, this session is for you. You will participate in a variety of simple, creative processes combining randomness and spontaneity within the framework of mindful drawing. The goal of the session is to relax and enjoy the process. You will be exposed to a number of art techniques including Kumomi, suminagashi and dendritic monoprinting that you can use and readily teach others. Let's have fun!
Mona Corby CZT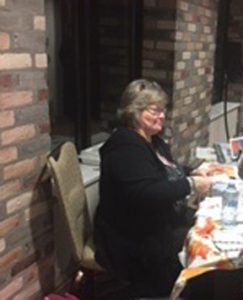 Mona Corby CZT 20 has been a tangler since 2010, was certified in 2015 and loves creating art in many mediums. She is a working artist in watercolour, soft pastel, pen ink and graphite (Zentangle inspired art), and precious metal chain maille jewelery.  Mona lives in rural Ontario with husband Don and cats, just down the road from the village of Carlisle. Don is a custom picture framer (very convenient) and nature photographer; together they show their art at Corby Custom Framing Gallery, which is in a converted barn. Her art studies have been extracurricular and constant at several southern Ontario art schools, museums, and private workshops for the past 20 years. She is an art workshop addict like a space trekker, exploring strange new mediums, seeking out more colour and boldly making tons of mistakes, which might turn into a great new technique! For her creating art is about the process; she never gets where she thinks she's headed and gets lots of surprises along the way, but miraculously makes art (sometimes). For TangleOn 2018 Mona will be teaching a class in Gilding, Gold Leaf Techniques All Tangled Up.  She's practiced leafing for 12 years and learned it from 2 wonderful teachers, Cora Brittan Mixed Media Artist, Calligrapher and with Debbie Thompson Wilson, Medieval Illumination. For her, teaching is about sharing everything you know about the subject. Which includes some examples, short demonstrations, and a lot of playing. She looks forward to meeting you all!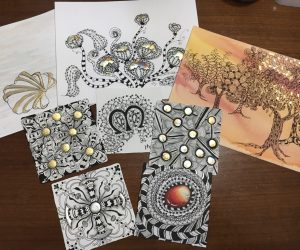 Gold Leaf Techniques all Tangled Up
In this Zentangle Inspired Art Workshop, we will be adding luscious 22-23k gold leaf to your tangled creations. Working with a few methods the class will be experimental and lots of fun. We will work with real gold and artificial gold and silver leaf you'll have enough left over for more exploring at home. It's addictive so be prepared. Subjects will be a ZIA "garden askew" and an abstract tile.
Mary Shaver CZT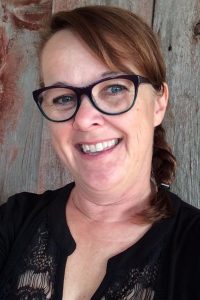 As a child, drawing, and sketching were one of Mary's favourite pastimes.  Exploring the different mediums can be such an adventure.  As a hairstylist, Mary continues to create with an alternative medium.  In 2012, after being introduced to the Zentangle method, Mary began a new journey into the art world.  She became a Certified Zentangle Teacher in 2013, (CZT 13), and taught for two years.  Most recently, Mary started working with soft pastels and has exhibited work at a local library, annually, for the past 5 years, and also has a display at Half Moon Street in Elora, Ontario.  You can visit her on Facebook at "Mary's Art at a Glance".  Mary is grateful for all the amazing artists that she's met along the way, and looks forward to reuniting and meeting new artists.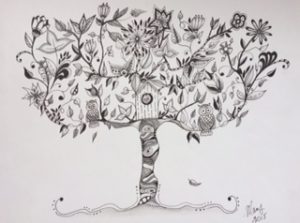 Tangled up in a Tree
Let the whimsy begin! Mary is famous for her delightful Zentangle inspired art which matches her fun personality. You will love this workshop where you will learn how to easily design and create a fanciful tree using a basic string, simple tangles and even the odd owl and bird. Simple drawings suitable for any age and ability.  Your students will love this new class.
Brenda Shaver CZT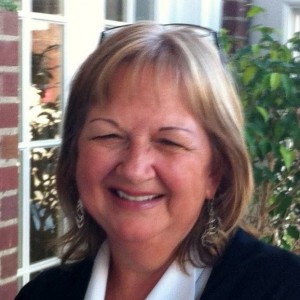 Having been blessed growing up on a farm with parents who made most everything by hand, creativity and using her imagination was a constant everyday necessity for Brenda.  4-H was also a major influence with its motto "Learn to do by Doing". Brenda attended Kemptville College (U of Guelph) where she further indulged her creativity in Interior Design and developed a passion for teaching adult education at St. Lawrence College for several years. But it wasn't until she found Zentangle® in 2012, and became a CZT 8, that she knew this amazing art form was special and a natural progression to her already innovative career.   Brenda is a personal testament that the Zentangle Method works as she shares the magic of Zentangle in workshops across Ontario with students of every age and ability. Brenda lives in Guelph, Ontario and loves spending time with her grandchildren, Cecilia, Spencer and Tristan.  You can find Brenda at brendashaver.com and www.facebook.com/tanglingwithbrenda. Brenda's forte is developing new fun and creative class ideas, and she will be presenting more about this concept at TangleOn 2018. 
For more information
The Prince of Wales Hotel
Canada's Heart of Wine Country
Travel Information
Activities for Spouses
Information and Registration